Chargement en cours...
100% Secure Booking, Best Rates Guaranteed, Instant Confirmation




Your Comfort, Our Services
A HAVEN OF PEACE IN THE HEART OF BLACK PERIGORD
In nature, this old farm of the nineteenth invites daydreaming. An infinity pool overlooking the valley and completes the sumptuous surroundings. Three dry stone houses - with terraces planted and very neat landscaped areas - form a hamlet around a pretty courtyard and its olive tree. exposed beams and stone, walk-in showers, walls with natural lime or earth tones, gray and plum: the rooms embrace the contemporary style. Very spacious and soothing freshness in the family suite, voluntarily purified, where raw stone floor and walls is the most beautiful scenery. Furniture, beams and gray paneling bring a lot of serenity to the room "" kitchenette "" which, besides its food, has the best located terrace. Breakfast and dinner are served in the new conservatory, where painters from the region exhibit regularly. Périgord forces, it will be tempted by the duck tagine with figs sleeves or crème brûlée ... foie gras, specialty Valerie, who has not finished to amaze you in the kitchen.friendly and relaxed welcome and, for lovers, a golf five minute drive.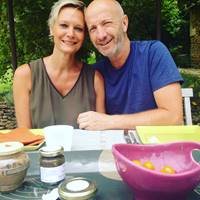 Valérie et Denis BOUDOT, Propriétaires
Rooms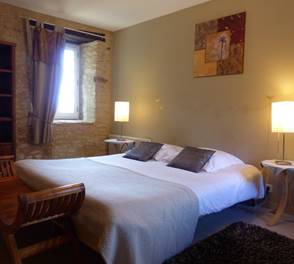 Room Ocre
from 79
€
The room "tan" is a room of 26 m2, built with materials of the Black Perigord, namely the stone...
See Details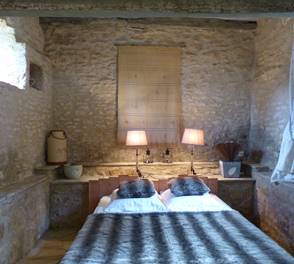 Family Suite For 2 People
from 89
€
The family suite is located in a detached house. On the ground floor, bedroom with a bed of 140 x...
See Details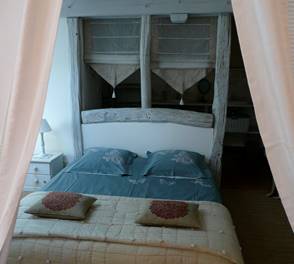 Kitchen Room For 2 People
from 85
€
You can stay at 2, 3 or 4 people in room-kitchen (40 m2), and preserve your independence. It is on...
See Details
Our News
Our WEEKEND TRUFFE are online!
You can now book for one of our WEEKEND TRUFFE in...
Promotion last minute Easter holiday -30%
Guests booking a minimum of 3 nights, a discount...